Bahawalpur is the 11th largest city in Pakistan as per the 2017 census with a population of over 70000. It is located in the Punjab province. It is the headquarters of the Bahawalpur district. Other cities of the district include Ahmadpur,Hasilpur, Khairpur Tamewali and Yazman. Bahawalpur is famous for its carpets, embroidery and pottery. The annual Jeep Rally in the Cholistan Desert is a spectacular sporting event that attracts visitors from all over the country. Almost 2/3rd of Bahawalpur is covered by the Cholistan Desert.
Following are the best attractions of the Bahawalpur
Abbasi Mosque
The Abbasi Mosque is located just outside of Derawar Fort. Its white marble exterior makes it appear to be a sanctuary in the Cholistan desert. The Mosque, which was built in 1849 by Nawab Bahawal Khan, is an exact copy of the Moti Mosque at the Red Fort in Delhi.
2. Al-Sadiq Jamia Mosque
This mosque is one of Pakistan's most magnificent mosques. The great Sufi of the Chishtia Clan laid its foundation about 200 years ago. It was renovated in 1935 and has a capacity of about 50000 people.
3. Bahawalpur Museum
The museum has a wealth of information about the archaeology, history, art and heritage. It was built in the 1970s. The Museum houses numerous photographs and records from the Pakistan Movement, as well as Quranic documents, antiquity and contemporary art.
4. Central Library
This is Punjab's second-largest library. This has a splendid architectural design. It houses over 100,000 books. This library was founded in 1924 and a that time cost 1 lakh rupees to built.
5. Darbar Mahal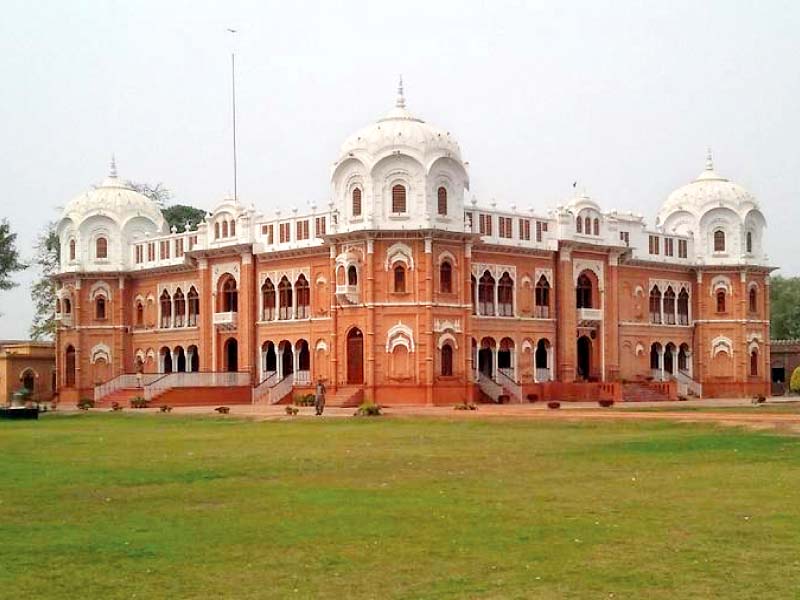 Darbar Mahal is one of Bahawalpur's palaces that is not open to the general public. It is a palace complex that includes a mosque and other structures surrounding the main palace site. It combines indigenous, Arabic and European architectural styles. There are entrances on both sides, as well as jharoka balconies. The palace is located in a 75-acre garden. It currently houses military and government officies, hence, it can only be visited with special permission.
6. Derawar Fort
This amazing fort is located 130 kilometers south of Bahawalpur City and is quite well worth the drive. It has forty paragons that can be seen for miles around in the Cholistan Desert. It was initially a Rajput fort constructed in the 9th century, and its five-foot thick walls have withstood the test of time very well.
7. Gulzar Mahal
Nawab Sadiq Muhammad Khan IV established this palace, which was the first building in Bahawalpur to have hidden electrical wiring. Its architecture, like that of the Noor Mahal, has distinct European elements and is well worth seeing. Stucco work, pillar, and intricate carving are done in this Mahal.
8. Noor Mahal
Noor Mahal, located near Canal Road, is a stunning architectural marvel in the district. This palace, designed to emulate Italian chateaus along neoclassical lines, was built in 1872 for Nawab Sadiq Muhammad Khan's wife. It is open to the public in parts and serves as a state guesthouse.
9. Sadiq Dane High School
Sadiq Dane high school is also known as Boys High school. It was built by Nawab of Bahawalpur in 1911. Over two thousand students get their education here.
10. Sadiq Public High School
The Sadiq Public School is a boarding school for high school students in Bahawalpur, Punjab, Pakistan. It also welcomes day students. It is one of the largest schools in Pakistan. It is consists of area 451 acre. This campus is the largest in both the country and continental Asia
11. Tomb of Bibi Jawindi
Jawindi Tomb is far from Bahawalpur City, located in Uch Sharif. While Uch Sharif is not affiliated with Bahawalpur, is it a must for anyone visiting the city? The Tomb of Jawindi is one of the five Sufi monuments and is located in Uch City, which is said to have been built by Alexander the Great. It is one of the World Heritage Sites as listed by UNESCO. It is about an hour and a half drive from Bahawalpur. The tomb of Jalaluddin Surkh-Posh Bukhari is a short distance from the tomb of Uch and is worth a visit if you are in the city.
Other Reviews
Several bloggers and vloggers have covered Bahawalpur. Following are some of the good ones.
Another one:
So, next time you visit Bahawalpur, do not forget to visit the above-mentioned mesmerizing places.