Today we explore Sialkot and the attractions related to it.
Sialkot, called the City of Iqbal, is the the birthplace of the poet Dr. Muhammad Allama Iqbal. Sialkot is located in Punjab and it is the 13th largest city in Punjab.
Sialkot has the finest industries and is the second-largest foreign exchange earning for Pakistan because of its exports and payments from overseas. Sialkot is known for manufacturing high-quality music instruments, sports, leather and textile goods equipment. Local industries in Sialkot make 40 to 60 million of footballs per year which is 70% total of world production.
Once you are in the city you will be needing a proper list of the places to visit. So this post is all about the famous places for visitors. 
Iqbal Manzil  (Iqbal House) 
One of the must visit places in Sialkot is the birthplace of Allama Iqbal called (Iqbal manzil).
Iqbal's house has been turned into a museum now where all the belongings of Iqbal are kept. And it also has a huge library with 4000 books. Allama Iqbal house is structured with red and white walls which makes it more attractive. Many tourists prefer to visit Iqbal manzil when they visit Sialkot. 
So if you plan on visiting Sialkot, Iqbal House should be your first priority. 
Temple Of Shawala Teja Singh
Teja Singh Hindu temple is located in the center of Sialkot. There are deities carved on its pillar. Looks like Hanumaan. It has a lot of religious devotion on it and is mostly written in Greek ( followed by Buddhist ). This is the only temple in Pakistan written in Greek with arches and columns. This is different temple compared to other temples located in Rawalpindi named ( Kalyan Das and Krishna Temple)
It also has one school in Raghunath temple where nobody is allowed to go. 
Garrison Amusement Park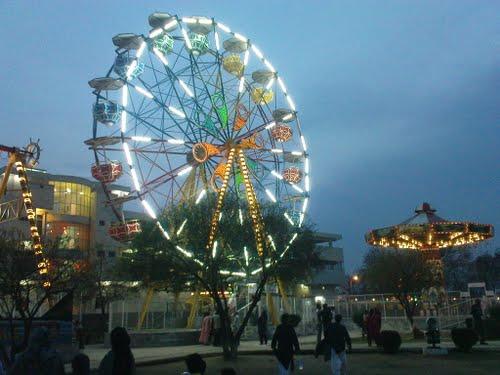 Garrison park is famous because of its rides, peaceful environment and auditorium. It has a good range of activities for children. It is especially good for those who love nature and physical activities. 
Holy Trinity Cathedral Church 
This church is located in Sialkot,  Its first stone was laid on March 1, 1852, and was constructed by Rt. Rev Daniel Wilson which now belongs to the present-day Pakistan. Many visitors visit this place and find it quite interesting and a must-go-to place.
Sialkot Clock Tower
Sialkot clock tower is also known as Iqbal square. The architect did a commendable job and made it a beautiful piece of art. It is a huge giant clock and an eye-catching place for the visitors. Located in Saddar Bazaar Sialkot . A place to visit, if you want to see a beautiful piece of art. 
Tomb Of Imam Ali Ul Haq
Imam Ali Ul Haq was a religious scholar, and one of the great personalities in Pakistan. He was martyred in the battle against the Raja of Sialkot, but before that he converted a large population of city to Islam. His grave is situated with several pirs. A folk fair is organized in the adjacent ground every Thursday attended by hundreds of people.
They say you cannot tell or feel about that city unless you taste the food of that city, the food of the city says a lot about the city. There are a lot of hotels which serve the delicious food in Sialkot.
Jeevens Hotel – Sialkot 
Located in Sialkot, 20 minutes drive from Sialkot International Airport they serve tasty food and excellent service. It is a 3-star hotel, The price per night is Rs 8,503 which is quite low as compared to other hotels in Sialkot (breakfast included) This is the reason it is counted as the preferred hotels in Sialkot and never disappoints its visitors.
Hotel Javson
Javson hotel also a popular hotel in Sialkot for visitors from outside the city. Hotel is famous for proper maintenance. The price per night is Rs. 10,750
Popular amenities – Pool, free Wi-Fi, breakfast , gym, bar and many others. 
Marala Headworks 
Marala dam was first built during 1906-1912 and was fully completed in 1917. It is used to control flood flow in River Chenab. Marala headwork is also a picnic spot.
Lahore-Sialkot motorway is the preferred route if one is coming from Lahore. 
So these were the attractions by our side. If you want to get any attraction enlisted, do contact us.